About Us
---
A true family business, we began trading in 1901.
Known as Dennett & Co originally we sold Carpets, Beds and all types of furnishings.
---
---
---
Established in 1901
Dennetts is an established family business with more than four generations of experience in retailing lounge, bedroom & dining furniture.
With an excellent reputation built on friendly efficient service and value for money, Dennetts is known throughout the Midlands for outstanding customer care.
The shop first opened in 1901 and sold general haberdashery, curtains, fabrics, rugs and linoleum.
---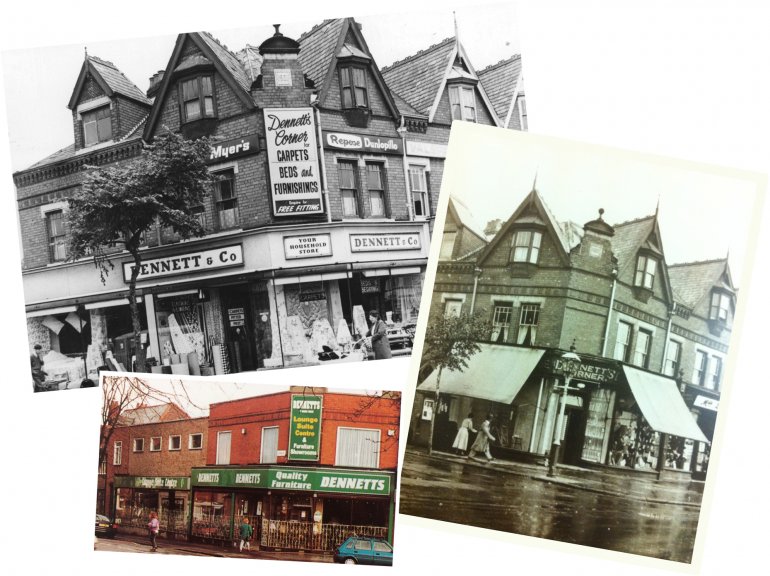 1960s & 1970s
By the 1960s, Dennetts had become a furniture and carpet retailer in the main, whilst still selling home furnishings like rugs, pictures, mirrors and lamps. Next door to Dennetts was the hardware store, owned by Mr Dennett's brother. Customers could get everything they needed for their homes between the two shops!
In the late 60s, the second floor of the building was removed, the roof flattened (as was the fashion in those days) and the living spaces above the shop and to the rear were incorporated into the showrooms.
The shop was then able to sell more three piece suites, beds, dining furniture and chairs and give customers greater choice than ever before.
When the third generation of the family took over in the 1970s, the shop began to specialise in high seat chairs, recliner chairs and orthopaedic furniture, while still selling carpets, cabinets and beds.
---

---
4th Generation Family Business
Now, into the 4th generation, the shop continues to be successful, also with Birmingham's largest selection of high seat, fireside chairs and riser recliner chairs, whilst always maintaining the highest level of personal attention and service.
---
---